Two days in Singapore in September
---
We took a morning AirAsia flight from Kuala Lumpur to Singapore. Hotel transport delivered us to the airport one hour before our flight. Since we did not have any checked baggage, we went directly to the boarding gate. Singapore in September promised to be a perfect destination.
---
I am very thankful to AirAsia for a perfect schedule, lack of flight delays, and low ticket prices.
A one hour flight later, and we were there, in the city-state of Singapore. At the passport control desk, we were asked for a visa, but it was absolutely enough to show our plane tickets confirming that we will stay in Singapore less than 96 hours and leave to the third country. Just in case, we printed an ICAO Transit Visa Timatic for Singapore and hotel booking confirmation. If you are a transit passenger, you will probably not suffer any problems. We were given a Singaporean stamp with a "+4 days" note on it and were set free.
Good news: wifi in the arrival zone of the airport is rather slow, but on the ground floor, the connection is good enough. While Ivan was exchanging USD into SGD, I downloaded a map of Singapore and uploaded some pictures of "Ivan's sleeping with mouth open" and "coconuts attacking Ivan" from Malaysian Perhentian island.
We did not plan to exchange much currency, as we hoped to pay with a credit card, being confident that in Singapore you do not need cash at all. Nevertheless, we were disappointed when we found out that they did not accept credit cards in the metro. It should also be noted that the time gap between the trains is about 7 minutes.
We booked a hotel on the same line as the airport so that we could easily get from and to the airport. In fact, the green line from the airport arrives at the city center, where we had to change from the airport's green line to the city's green line to get to the hotel.
Accommodation in Singapore is rather expensive, but we managed to purchase a room for 25 SGD instead of 120 as we collected Agoda points from our previous trip to Vietnam.
We put one rucksack into the hotel's storage chamber, took another one with the most important stuff, and left to the city centre.
Another great news about Singapore is that you can eat delicious Chinese food for 5 SGD at a two for three dishes buffet. It was indeed 2.50 USD each and we did not suffer stomachache after.
It has been said that Singapore is an example of a very clean city, where a piece of paper on the pavement is a very rare phenomenon, and the roads are cleaned with soap in the morning. I admit, it is tidier than China, but Japan is tidier than Singapore, for instance. By the way, Singapore does sell chewing gum, and does not confiscate it at security and border controls. We once saw a couple being fined for eating something in the park. Following this incident, we preferred to behave as quiet as the grave and not chew, just in case.
The first place we went to was the famous Marina Bay Sands. The metro station "Marina Bay" is not the Marina Bay Sands Hotel buildings and Merlion. Get off at "Ruffles Place" to avoid walking 15 minutes.
I felt in love with Singapore after I saw clean, comfortable, and free bathrooms every 100 metres. This indispensable service, which is lacking in most European countries, justifies high tourist tax. It is very humid and hot in Singapore, and you will no doubt need this useful facility.
We walked along the bay, taking pictures with the Merlion and Marina Bay Sands Hotel, "inspected" the luxury shopping center, and relaxed by the lotus lake. Then we crossed the bridge, then we went to Sentosa Island and returned back by cable car (52 SGD for two, and you can pay with credit card!).
We agreed not to visit the amusement park and the zoo, but dedicate our time to Sentosa Island instead. The water temperature was about 25 degrees above zero. Locals and tourists were happily splashing around while we were taking a nap right by the sea, as 4 hours sleep last night before was not enough even for young travellers. Numerous free buses operate on the island, so you can hop in and hop off anytime, anywhere.
Water and ice cream are expensive: three dollars for a bottle of water, and 3,50 for a scoop of ice-cream.
For dinner, we investigated Chinatown. Among all the countless restaurants we chose the one called "Harbin", as it reminded me of my native town. The food was amazing: authentic eggplants in sweet-and-sour sauce, pork ribs, pork marinated in honey, and crispy dumplings – just like in China. Our feelings can't be described nor expressed, they can only be experienced.
Sometimes when you pay with a credit card you may be subject to a commission. This happened to us at the SPA centre after an unforgettable 30 minutes foot massage. The commission may be applicable when you pay with cards issued by Master Card, Visa, or American Express. Moreover, when we tried to pay at 7/11, the card was also rejected as not issued by the local providers.
The light show at Marina Bay Sands starts at 8 PM, 8.30 PM and 11 PM on Fridays and Saturdays. The schedule is different for weekdays, but in any case, it is more or less the same. Multi coloured lasers light up the hotel and Art Science Museum to impressive and emotional music.
"Gardens By the Bay"/ "Garden Rhapsody" is another light show and it is definitely worth seeing. It is literally a forest made up of huge metal luminous trees sparkling to tense music. It is a spectacular entertainment show, but at the same time a little bit depressing and scary, as if it was a 15 minutes apocalypse.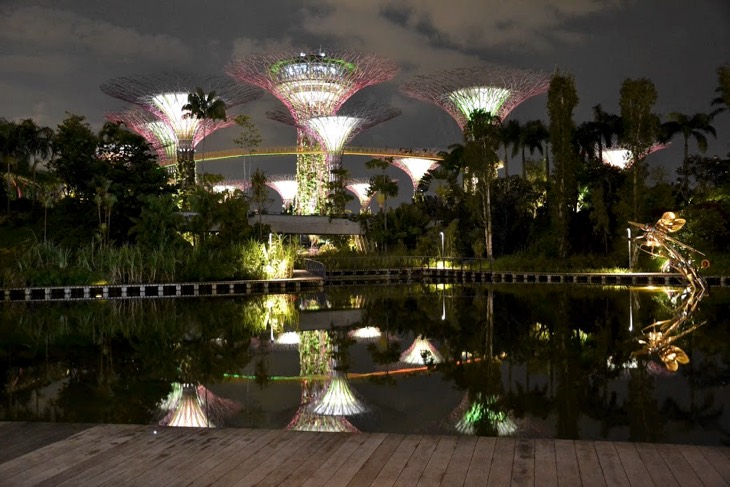 The next and the last full day in Singapore we started from the observation wheel. We actually did not plan it, but our hotel had numerous discounts, such as special prices at the Zoo and birds' park, discounts for the hop on and the hop off bus and observation wheel. If you are in Singapore ask for discounts and special prices for tourist attractions at your hotel.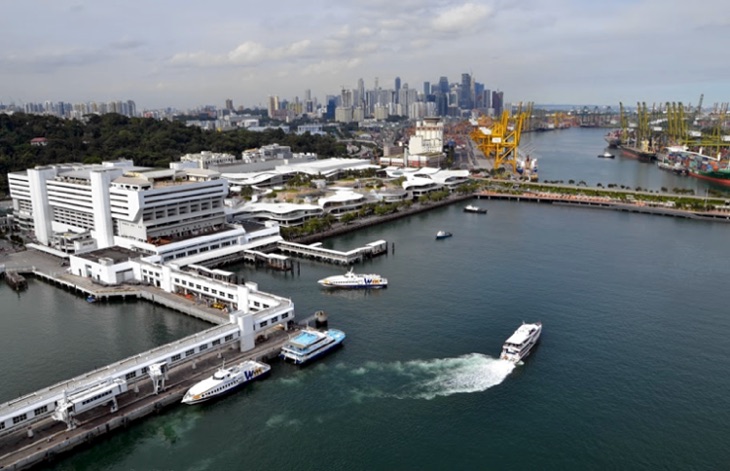 We went alongside the river at Clarke Quay, found the "upside down" G-Max Reverse Bungy that was under reconstruction, and visited the botanical garden. I was impressed by the garden: well maintained, full of exotic plants, with turtles and black swans inhabiting a big lake, and it smelled nice. It was a perfect ending for the sightseeing part of our tour in Singapore.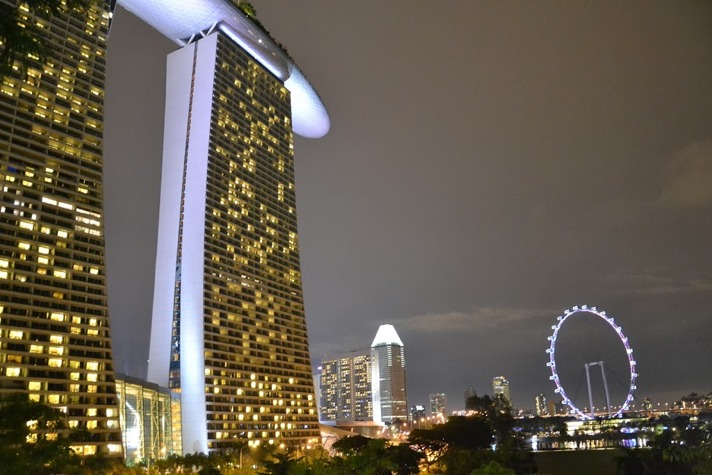 I would like to add a few words about Changi, the International Airport of Singapore. If you have an early morning flight, check in online and have your boarding passes with you, so that you can simply proceed to the airport lounge in the evening and spend a night there. Indeed, I have never seen such a comfortable, modern airport, with a perfect wifi connection, chargers, lots of couches to sleep on, a shower, and other commodities. Fresh blooming flowers everywhere! The only thing you should keep in mind is the size of the airport – it is so huge that it took us 25 minutes to get from one boarding gate to another within one terminal.
Finally, some important tips about Singapore:
print your ticket to the third country and hotel reservation if you are a transit passenger,
have enough cash as credit cards are not accepted everywhere,
the Marina Bay show starts at 8 PM,
you can ask for special prices or discounts on tourist attractions at the hotel reception,
Sentosa buses are free of charge,
the Changi airport deserves a separate day to visit.
Early morning we left for Jakarta and spent 5 days travelling across Java from the west to the east.
Do not forget to leave you comment and to subscribe to our YouTube, Instagram, Facebook and Twitter pages.