Ronda, a town on a rock in Spain, a masterpiece of human architecture
---
Spain loves tourism. Nevertheless, it wouldn't be so touristic if it wasn't for a mild and warm climate, a clear blue sea, a huge variety of fruit, vegetables and fish, and, obviously, breathtaking architecture. One of these masterpieces of human architecture is a town on a rock in Spain called Ronda.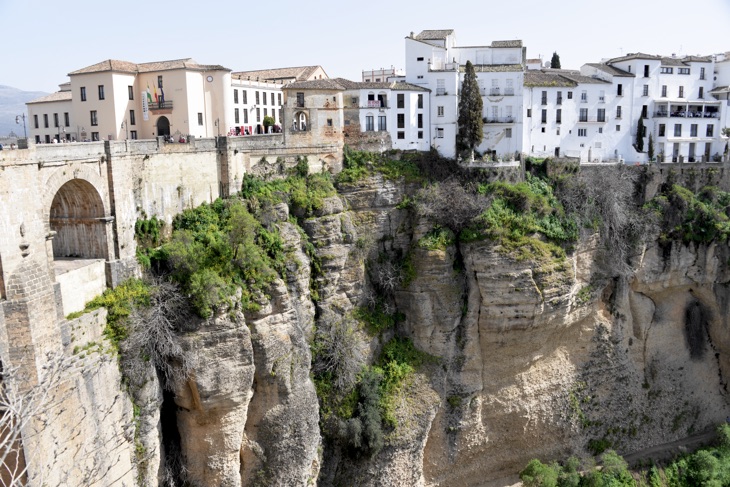 ---
Ronda is a town in Andalusia, a southern community of Spain that attracts millions of tourists. Indeed, their interest in this region is amply justified.
We visited Ronda one beautiful march morning when the sultry air hadn't still grasped Andalusia and the scorching summer heat faced the central provinces, like Seville and Córdoba. What is there to see in Ronda? Is there anything special?
Let's start with New Bridge (Puente Nuevo). This is exactly the place from the photos that you are scared to look at because it makes you imagine falling 30 floors if one false move is made.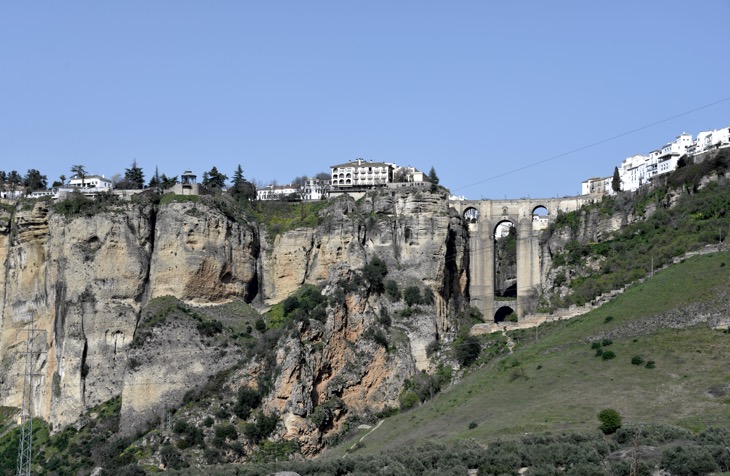 The first time the bridge was constructed was in 1735 after 8 months of work. However, after functioning for six months the bridge fell down and took the lives of more than 50 people. The second construction was successful and was finished in 1973 during the national holiday day of Real Feria de Mayo en Ronda. We can still admire its splendid beauty.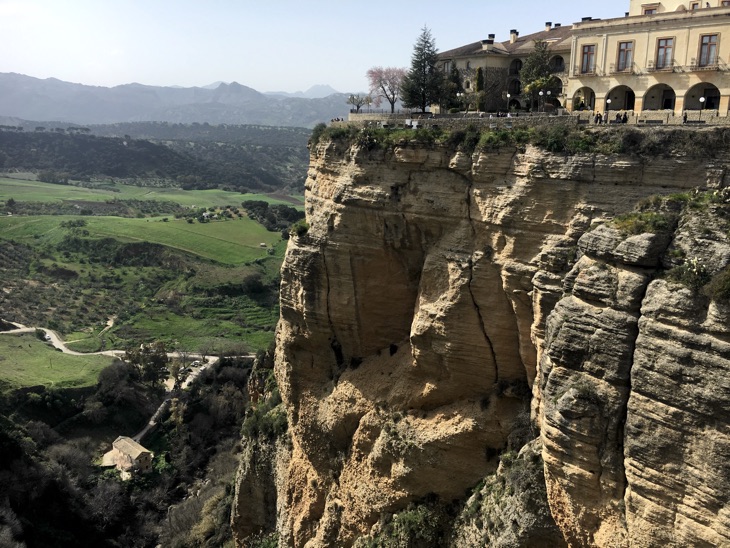 The bridge´s height is 98 metres and it connects two parts of the city: the modern and the old ones. From one side we can observe a nice restaurant with a fantastic view on the rock.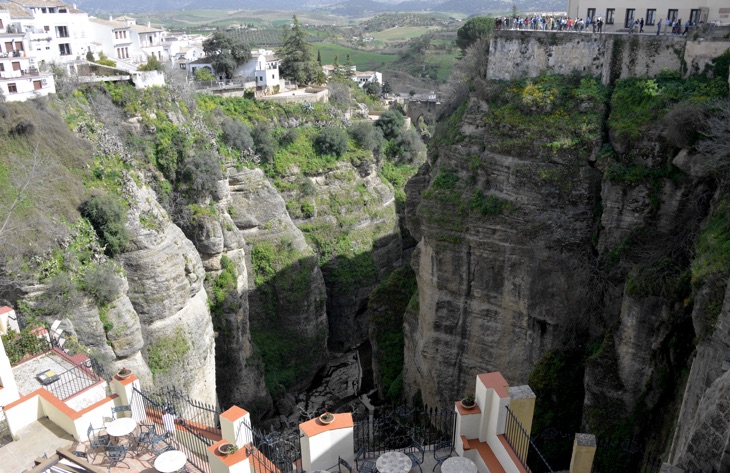 Someone lives here!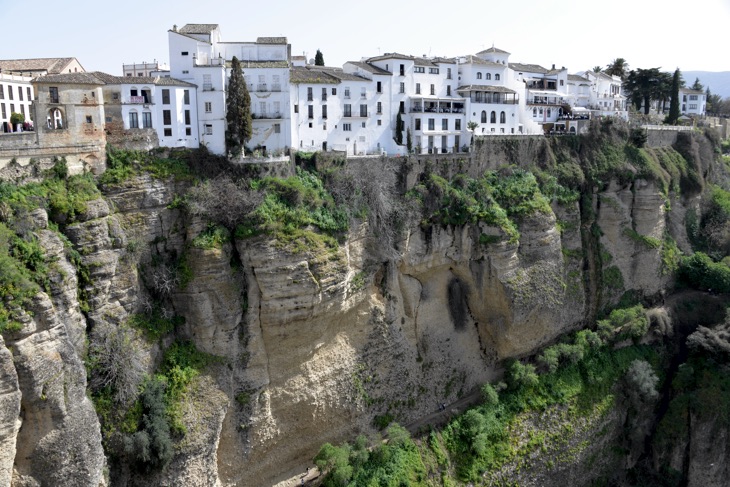 Another popular site is the Palace – Palacio de Mondragón palace, or the Palacio del Marqués de Villasierra palace. Legend has it that it used to be the residence of the King Abbel Malik, a son of the sultan of Morocco, Abul Asan. Some years later, after the king died, the Kingdom of Ronda became part of Granada. The most important palace reforms were adopted during the Christian occupation.
The narrow streets of Ronda, lined with tiny white houses, will never let you forget that you are here, in Andalusia. Do get lost!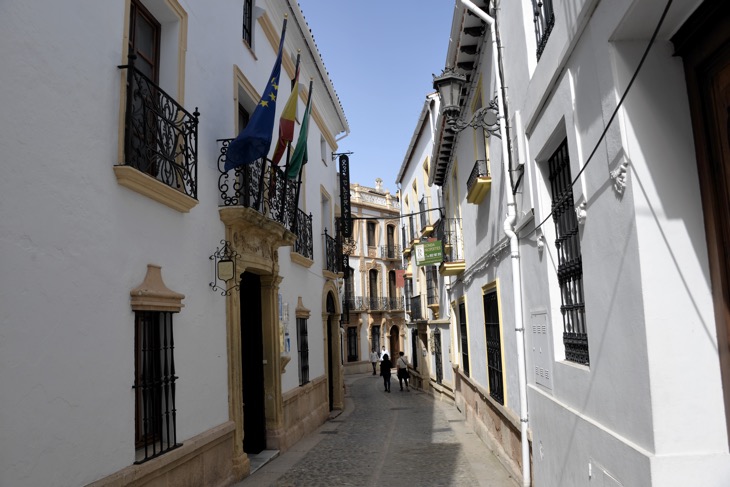 Ronda is a stronghold of bullfighting. The Real Maestranza built in 1785 remains one of the most ancient and beautiful bullfighting arenas in all of Spain.
Any museum-lovers? You can visit Museo Lara and enjoy the rare collections of watches and clocks, weaponry, photography, cinema and much more. The museum is open since June to October from 11 till 20, and from November till may from 11 till 19. The cost is reasonable: 4 euros per person with special discounts for students and seniors.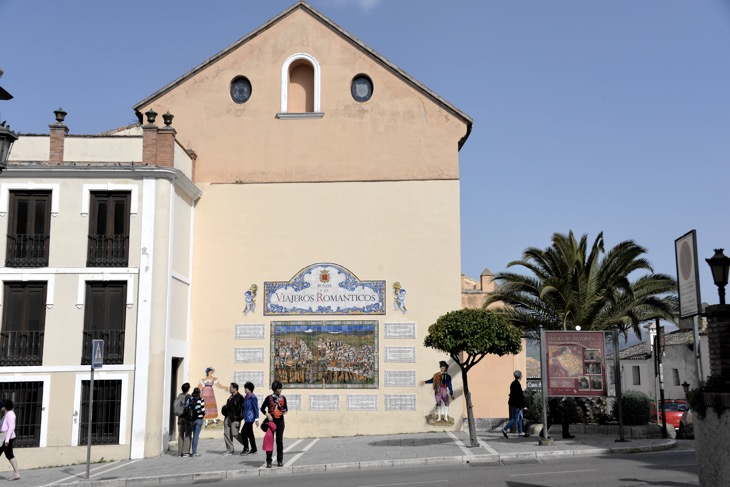 The Arabic City Walls decorate the city giving the town a cozy feel. One can enjoy a cup of tea or coffee, or have a glass of beer or sangria on Ronda's central square.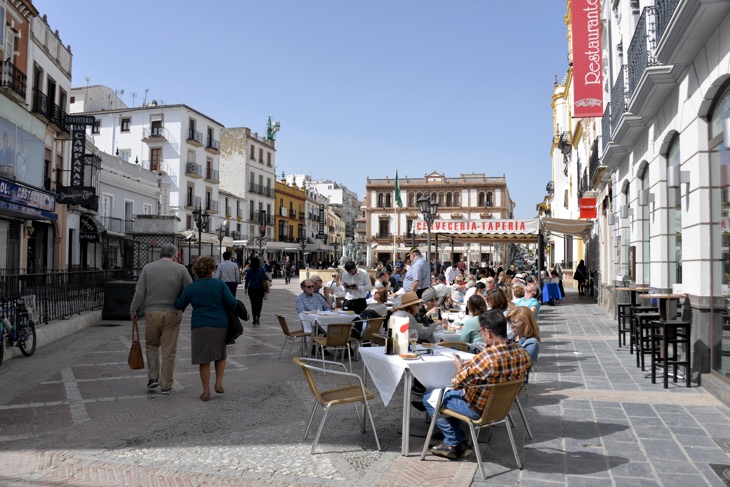 If you have spare time, you can go and visit the Arabic Baths of XIII century, that are perfectly preserved so far. Admission is free on Tuesdays after 3 PM. Another sightseeing attraction, although situated some distance from Ronda, is the Cueva del Gato, Benaoján cave. You can find directions here. Do not forget to bring along a flashlight and dress appropriately.
Incidentally, because of it's location, Ronda attracts rock climbers and lifeguards, who regularly hold training exercises there.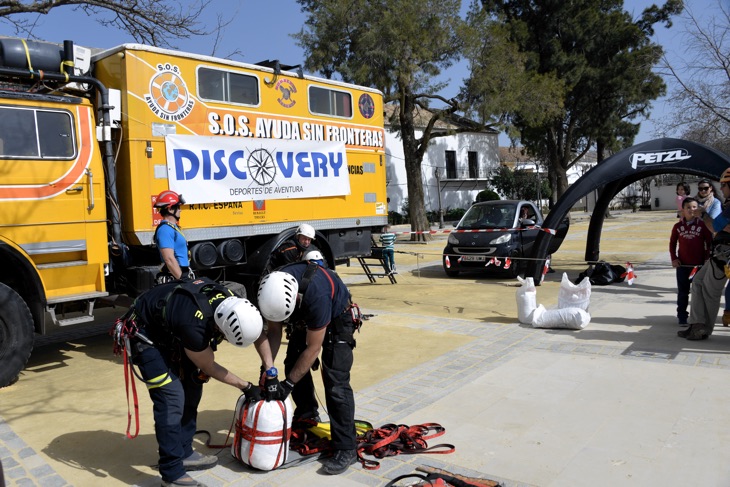 Not far from Ronda, you can visit another cave – Cueva de la Pileta, which was designated a national heritage site in 1924. Inside the cave you'll marvel at ancient paintings of horses, deer, goats, and bulls can be observed. The cave was not only a place of residence, but also a burial site.
20 kilometeres from Ronda the ruins of the Roman settlements  Acinipo are situated. The name Acinipo translates to "wine city" for being one of the few regions that exported wine. Admission is free of charge.
Do not forget to leave you comment and to subscribe to our YouTube, Instagram, Facebook and Twitter pages.