Where to eat in Moscow, Russia: national dishes, Russian fast food and cheap restaurants
---
Only one month is left before FIFA 2018 in Moscow starts.  Undoubtedly, one of the most important questions of every tourist is what national cuisine in Russia is, what national dishes to try in Moscow, what Russians eat, and where to go to eat national food in Moscow. In this article we will show you some places.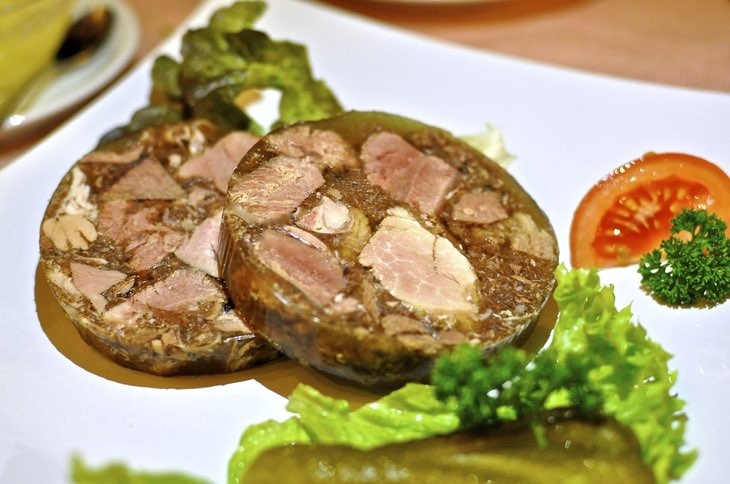 ---
If you are going to Russia this summer to see the World Cup 2018, you will definitely ask where to eat Russian cuisine in Moscow and you would want to know what defines a traditional Russian dish. Even though the exchange rate favours tourists and the majority will not save money on food, some are still looking for those places that Russians prefer. Of course, you can visit expensive restaurants such as Pushkin or TS.D.L. restaurants, but when you have three weeks in Moscow, you will be looking for some diversity in meal.
Here are some places where you can have lunch and dinner in Moscow and try traditional Russian dishes.
For homemade Russian food in Moscow, be welcomed in this chain. They are specialized on Russian cuisine and cook all kinds of pies and kulebyaka (open pies with meat, cabbage, and mushrooms), solyanka (thick soup with vegetables and meat), kholodetz (cold soup with lots of thickener that eventually make you eat it like a pie), draniky (potato pancakes), and many more.
Moreover, they also serve traditional Russian salad vinegret made of boiled vegetables, sour cabbage, and salted cucumbers with olive oil and vinegar dressing. This dish is served with herring and dark bread. Very yummy!
The last time I was there, I ate chebureki and draniky with vegetables and drank kisel (a traditional non-alcohol drink with fruit).
Komsomolskaya sq, 2
Novoslobodskaya str, 4
Kievskiy station sq, 2
Café "Mu-mu" (Му-Му)
Are you hungry after a day of museums and churches? Stop by "Mu-Mu", a cafeteria called after the sound a cow makes and decorated inside and outside accordingly, so you won't miss it on the street. The good news about this place is that they are open round the clock seven days a week. They offer a delicious selection of homemade food, like cream soups, all kinds of salads, meat and fish, pies, and cakes all at affordable prices. They also have special daily offers.
Manezshnaya sq, 1/2
Rozshdestvenka str, 5/7
Barrikadnaya str, 21/34
Myasnitskaya str, 14/2
Koroviy val str, 1
Bolshaya Dmitrovka, 9
Baumanskaya str, 35/1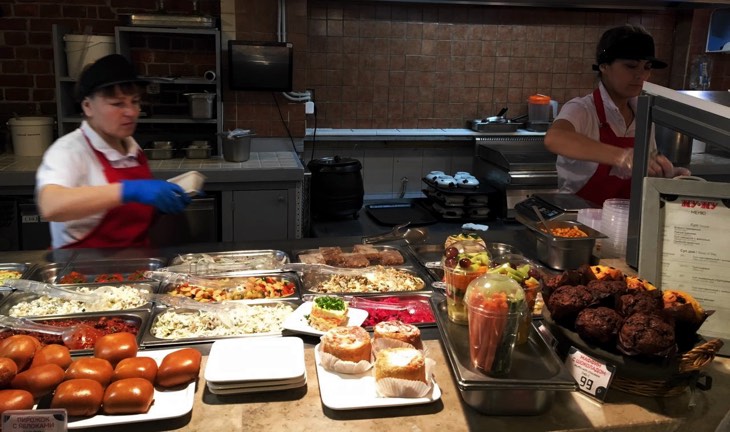 Stolovaya number 57 (Столовая N 57)
Stolovaya number 57 is situated right in Red Square in the Shopping Centre. Lunch will take you back to the USSR on a Gourmet trip. They follow the famous Russian cookbook "All about tasty and healthy food" and serve pelmeny (dumplings or raviolis but with more meat), zapekanka (some kind of casserole), borsch, salads, and compote (fruit punch, not the same thing as the French have) made in conformity with the rules of "State Standard of Quality".
The only disadvantage is a long queue. You can imagine the number of people wanting to have a lunch in one of the oldest dining rooms of Moscow. However, these queues will take you back to the USSR too, so you should perceive them philosophically and perceive them as a part of the Soviet past.
Krasnaya sq, 3
"Korchma Taras Bul'ba" (Корчма Тарас Бульба)
If you want to taste Ukrainian and Russian food, we suggest that you visit these restaurants. You will enjoy Ukranian hospitality, dishes of national cuisine, and magnificent unique interior. It's decorated like a Ukranian house in a village. Apart from traditional Russian and Ukrainian dishes, you can also order a strong drink Horilka, which is similar to vodka but different.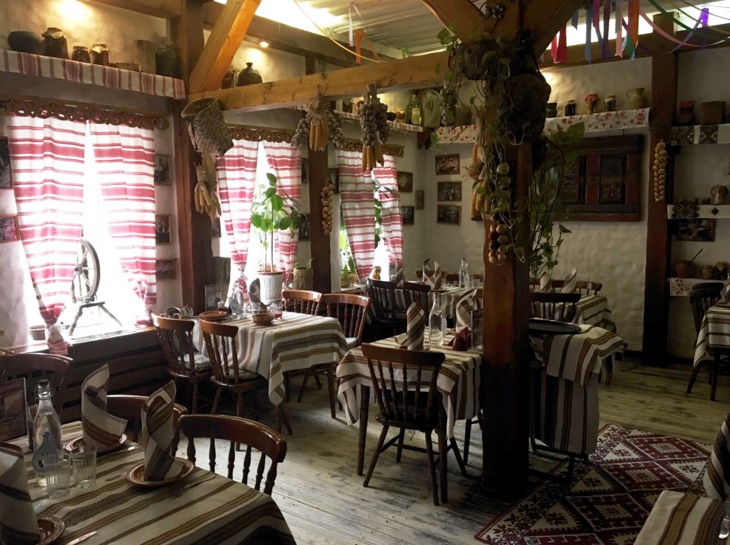 To make you feel more comfortable, there are some separate lounges for small groups. Waiters wear national Ukranian clothes and you can listen to Ukranian folk songs. Home delivery is also possible.
What would I suggest you to try:
My favourite dish is borsch with pampushka (bread with garlic and lard). Just try it without thinking what you eat. Price (March 2018): 310 rubles, aproximately 5 euros.
Casserole Bograch with meat, vegetables and red whine (540 rubles).
Home-made pelmeni: small dumplings filled with meat.
Eggplant rolls with nuts and cheese.
For dessert – cake "Kiev" – meringue, a very typical dessert of Soviet conutries. I don´t remember any birthday without this delicious cake.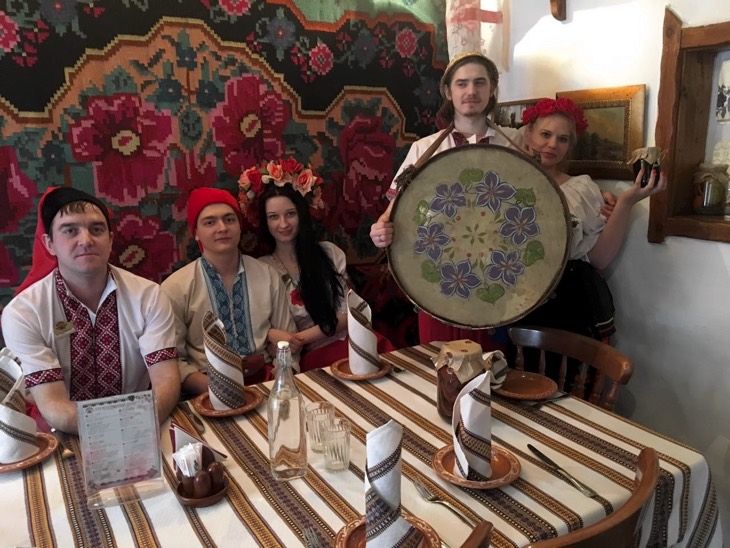 Sadovaya-Samotechnaya str, 13
Profsoyuznaya str, 16/10
Mokhovaya str, 8/1
Petrovka str, 30/7
Pyatnitskaya str, 14
Bochkova str, 3
Lyublinskaya str, 163/1
Finally, where to eat healthy food that Russians prefer. Why is this chain called "Three rules"? These are simple concepts, which are: fresh organic food, a high quality restaurant, and affordable prices. The café works in a fast service format: every dish is placed into boxes and the customer chooses whatever they like.
Cafés are located in many shopping centres.
Presnenskaya naberezshnaya, 2
Skhodnenskaya str, 56
Vavilova str, 3
Summimg up, some information about street food in Russia. There are definitely some Burger King, Subways and McDonald´s but the true fast food of Russia is not sandwiches or burgers. Firstly, chebureki (dumplings with meat inside fried in oil so that a tasty "soup" appears inside of it). Secondly, pirozhki – another kind of dumpling but it might be made not only of meat, but also of cabbage, mashed potatoes or even berries, all baked or fried. Thirdly, blini – a sort of pancakes but extremely thin with salmon, caviar, sour cream or marmalade inside.
Do not forget to leave you comment and to subscribe to our YouTube, Instagram, Facebook and Twitter pages.